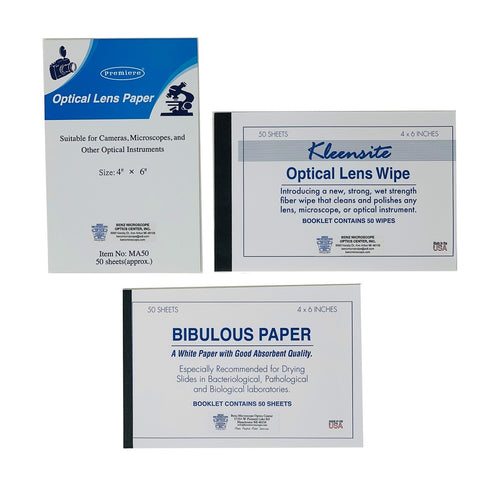 Optical Lens Tissue Variety Pack with Bibulous Paper (#201VAR)
A collection of 3 different lens papers for cleaning microscope, telescope, camera lenses, binoculars and eye glasses. Each type of paper is slightly different providing certain benefits for certain uses. This is a great way to find out which lens tissue works best for your application. Always follow lens manufacturer instructions before attempting to clean.
Premiere Optical Lens Paper features soft, heavy duty, lint-free papers for gently cleaning lenses, coated glass optical components and slides. Suitable for Cameras, microscopes, telescopes, and more. Papers measure 4" x 6" inches in a book of 50 sheets. (#20120)
Kleensite Optical Lens Wipes feature soft, dust free tissues that will not scratch glass. Gently removes dirt and dust from microscope, telescope, and camera lenses, eyeglasses, cell phones and more. Maintains strength when wet and pairs well with liquid lens cleaners. Book of 50, 4" x 6" sheets. Made in USA. (#20123)

Bibulous Paper is a highly absorbent, white paper that is especially recommended for drying microscope slides and other small glass items in bacteriological, pathological and biological laboratories. It also works very well for absorbing excess staining fluid. Lint and dust free. Measures 4 x 6 inches in a book of 50 sheets. Made in America. (#20130)
---
We Also Recommend
---
Questions & Answers
Have a Question?
Be the first to ask a question about this.
Ask a Question